History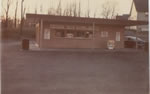 Frates began in the late 1930's and was originally known as the PX. Frates started as a gas station and small convenience store. People from the area would go there for their gas, cigarettes and some dry goods. In the early 1950's it was owned and operated as Frates Drive-In by Charlie "Red" Berry. Charlie hired a number of local youths to work at Frates, among them Dennis De Silva, the current owner, who grew up in Dighton. Dennis worked at Frates while in high school and left to go to Bryant College while pursuing a degree in hotel management.
click on image to enlarge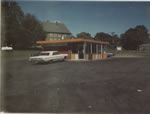 Charlie was a man of great distinction – an honest, hard working restaurant owner. Charlie instilled pride in all his employees and Dennis realized at a young age what honesty and integrity was all about. Charlies had a tremendous influence on a lot of his employee's lives.
In 1977 Charlie sold Frates to Glen Cambra who owned and operated Frates for 28 years. Glenn sold the property to a local restrantuer who changes its name and ran it just for one season and then shut the doors. The building began to decay and was in a state of disrepair.
click on image to enlarge
In 2008, Dennis De Silva purchashed Frates and completed a complete and extensive renovation over an 8 month period, and it re-opened as Frates Drive-In on April, 14, 2009.
The theme behind Frates is nostalgic. Dennis has brought back the family atmosphere and good, old fashioned food and ice cream. Quality, service and cleanliness are not compromised. Fifty's music plays in the back ground, and occasionally the staff will join in a tune or two….(but please do not ask Dennis to sing)!
Frates is a family run business, on December 15, 2014, Dennis sold Drates Drive-In to Greg Klisiaris, the current owner.
We are proud to bring "Frates" back to the community and promise to continue to make it the "most fun" drive in around.
Welcome to Frates!
click on image to enlarge